Bow & Arrow | Melon | Johan Vineyard, Willamette Valley, Oregon | 2020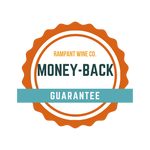 Scott Frank makes up the one-person show that is Bow & Arrow Wines. He works with a small group of farmers who have dedicated time and resources to graft and cultivate traditional Loire Valley varieties while maintaining organic farming practices. Located in Oregon's Willamette Valley, these vineyards are characterized by their cool climate, high elevation, and proximity to the coast. Before founding Bow & Arrow, Scott gained extensive experience as the second-in-command at Cameron Cellars, where he honed his skills in traditional Burgundian winemaking.
Melon, also known as Melon de Bourgogne, is an uncommon grape variety in the Pacific Northwest. Its scarcity may lead some to question the origins of the wine. Bow & Arrow's light-handed approach offers a distinctive rendition of Melon that balances brightness with a richness that's obtained through lees aging.


🧑‍🤝‍🧑 Pair with: Oysters, summer salad, dinner prep

🍇 Grape Variety: 100% Melon de Bourgogne 

🌱 Farming: Organic

🍾 Winemaking: Long lees-aged, barrel fermented

🧑🏼‍🌾 Winemakers: Scott Frank

🌎 Region: Willamette Valley, Oregon

🌡 Serve: Cold
🤓 More fun facts: Since 2010, Bow & Arrow has been dedicated to producing "natural wines" using classic Loire grape varieties such as Melon, Chenin Blanc, Cabernet Franc, Gamay, and Pinot Noir. These wines are crafted with minimal to no sulfites and have lower alcohol content. Scott typically carries out the harvest in late October and early November, resulting in wines with remarkable complexity and depth of flavor.
Due to the cool microclimates in which he operates, the wines maintain a fresh, vibrant character and exhibit extremely low levels of alcohol. This unique combination of extended grape maturation and natural acidity consistently produces delicious wines that express the region's terroir. Furthermore, Bow & Arrow operates as a one-person venture, allowing for remarkably affordable prices compared to similar wines on the market.