Domaine Grosbois | Cabernet Franc | "Extra Ball" | Chinon, Loire Valley, FR | 2021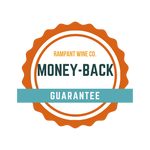 The Grosbois family has produced outstanding wines in the Chinon appellation of the Loire Valley for several generations. The domaine balances its deep-rooted history with progressive viticulture. 
Brothers Sylvain and Nicolas Grosbois focus on low yields to promote the expression of the terroirs and mitigate vintage variation. Nine hectares of Cabernet Franc are planted across various microclimates and soil types.
"Extra Ball" is the type of fresh & vibrant Cab Franc that gave us the wine bug in the first place. 30-year-old vines planted in prized limestone soil. The resulting wine is dizzyingly aromatic, refreshing, and lip-smacking!

🧑‍🤝‍🧑 Pair with: Chicken fajitas, lamb gyro, cheesesteaks, grilled veggies
🍇 Grape Variety: 100% Cabernet Franc
🌱 Farming: Certified Biodynamic
🍾 Winemaking: Fermented and aged in concrete tanks for eight months
🧑🏼‍🌾 Winemaker: Sylvain & Nicolas Grosbois
 🌎 Region: Chinon, Loire Valley, FR
🌡 Serve:  Lightly chilled