Trousseau Blend | Iruai | "Shasta-Cascade" | Siskiyou Valley, CA | 2021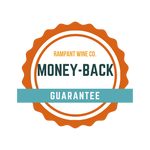 Here's Chad and Michelle's love letter to their new winery in Scott Valley, where they are pioneering high-alpine wines in California. The duo is developing a sense of place with "vast mineral range, savage elevation, and generous beauty."
Trousseau brings the blood orange tang, Monduese adds high toned black fruit and a peppery perfume, while the Blaufränkisch rounds things out with a bitter kick and savory structure.
Chad and Michelle seek to make terroir-driven wine by employing no additives, and removing no character. Their goal in the vineyard is to let the vines thrive like they would in the wild, and in the cellar, to shepherd each ferment through its own natural development and evolution.
🧑‍🤝‍🧑 Pair with: Grilled duck breast, morels, creamy polenta
🍇 Grape Variety: Trousseau, Mondeuse, Blaufränkisch, Pinot Noir, Pinot Gris
🌱 Farming: Organic
🧑🏼‍🌾 Winemaker: Chad and Michelle Westbrook Hinds
 🌎 Region: Shasta-Cascade (Trinity Lakes and Rogue Valley AVA's)  
🌡 Serve: with a slight chill