Trebbiano | Ampeleia | Toscana, IT | 2021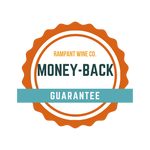 After Elisabetta Foradori proved herself as a talented grower/winemaker in Trentino's Dolimites, she started a new project in 2002. The Ampeleia vineyards sit as high as 1800 ft above sea level, yet are close enough to the Mediterranean for coastal influence, and have been farmed biodynamically since 2009. 
Marco Tait, the son of Foradori's agronomist, has been running the show since the early days. Ampeleia's farms span 120 hectares with only 35 of them dedicated to vines-- the rest consists of olives, a vegetable garden, pasture for farm animals, and forest.
In true field-blend fashion, 3 varieties are interspersed throughout the vineyard, rather than being grown in their own separate rows. Here we see a rounder, richer, more, textured wine compared to the Montemelino Trebbiano, which is more zippy, highlighting acidity and minerality.
🧑‍🤝‍🧑 Pair with: Spiced cuisines (Indian, Moroccan, etc.), salmon, roast chicken, scallops

🍇 Grape Variety: Trebbiano (90%), Ansonaco, Malvasia
🌱 Farming: Biodynamic
🍾 Winemaking: Co-harvested then co-fermented in concrete vats, with 7-10 days of skin-contact, followed by 6 months of aging on the lees in concrete tanks.
📦 Production: 12,000 bottles
🧑🏼‍🌾 Winemaker: Marco Tait
 🌎 Region: Colline Metallifere, Maremma, Tuscany, Italy
🌡 Serve: Cold