Passerina-Malvasia Blend | Azienda Agricola Macciocca | "Monocromo #1" | Lazio, IT | 2021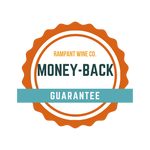 Italian national footballer becomes a biodynamic wine grower with a 4 hectare estate sitting on red volcanic soil at 1250 feet above the Adriatic Sea! w...t....f? 
The vines date back to 1945, although Mario farms his newer plantings via guiot and double cordon to align with his low intervention ethos. The main goal in the farm is to not destroy the symbiotic balance that regulates the plants relationship to the ground. No synthetic chemicals are deployed. Mario treats the vines as little as possible with natural fertilizers, using only copper and sulfur to fight mildew and oidium when necessary.
🧑‍🤝‍🧑 Pair with: White Fish, Shellfish 
🌱 Farming:  Biodynamic
🍇 Grape Variety: Passerina, Malvasia
🧑🏼‍🌾 Winemaker: Mario Macciocca
 🌎 Region: Lazio, IT
🌡 Serve: Cold