Ca' La Bionda | Garganega/Trebbiano | "Bianco del Casal" | Valpolicella, Veneto, IT 2020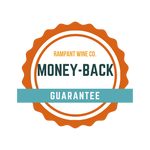 Calling all Burgundy lovers!

Ca' La Bionda was started in 1902 by Alsessandro's great-great-grandfather and continues thriving today. Alessandro worked at Chateau Margaux and other top European estates before returning to oversee his family's small organic farm near Verona. In terms of complexity, cellar aging potential and bona fide soil character, this property is simply a cut above the rest.
🧑‍🤝‍🧑 Pair with: salmon, scallops, roast chicken
🌱 Farming: Certified Organic 
🌡 Serve: cold
 🍇 Grape Variety: Garganega & Trebbiano
🧑🏼‍🌾 Winemaker: Alsessandro Castellani
 🌎 Region: Valpolicella, Veneto, IT
🤓 Geeky Stuff Behind the Wine:
With over a century of history, this small estate is producing what we believe is some of the best and most interesting wines in Italy's Veneto region. . We suggest you try their wines – especially their "Bianco del Casal" (Ancient vine, Grand Cru Burgundy-style Garganega/Trebbiano) – to see why so many people love them.
When we first tasted Ca' La Bionda's wines, we knew Alessandro Castellani was on to something. Fresh, vibrant and well balanced yet with incredible complexity and cellar aging potential, these wines have an elegance and power that reminded us of Burgundian Pinot Noir and Chardonnay.