Horus | Frappato | "Sole e Terra" | Vittoria, Sicily | 2021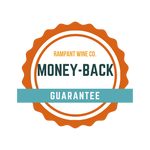 Introducing the Cantina Horus Frappato "Sole e Terra" Vittoria, Sicily | 2021 - a deliciously crisp and refreshing wine that is sure to delight your senses.
Crafted in the heart of Sicily, this wine is made from the Frappato grape, a rare and indigenous variety that is known for its elegant aromas and smooth finish. The wine is produced by Cantina Horus, a renowned winery that is committed to sustainable and organic farming practices.
With a bright ruby red color, the Cantina Horus Frappato "Sole e Terra" Vittoria, Sicily | 2021 offers a bouquet of floral notes, cherries, and raspberries. On the palate, it is light and delicate, with flavors of red fruit and a subtle hint of spice. The wine has a lively acidity and a well-balanced tannic structure that makes it an excellent pairing for a wide range of dishes, including pasta, grilled meats, and seafood.
Whether you're a seasoned wine enthusiast or a casual drinker, the Cantina Horus Frappato "Sole e Terra" Vittoria, Sicily | 2021 is a wine that you simply must try. It is perfect for enjoying on a warm summer day or for sharing with friends and family over a delicious meal. So why not indulge in a bottle today and experience the unique flavors and aromas of this exceptional Sicilian wine?

🧑‍🤝‍🧑 Pair with: 

🍇 Grape Variety: Frappato

🌱 Farming: Organic

🍾 Winemaking: 

🧑🏼‍🌾 Winemakers: Giovanni and Raffaele La Mura

🌎 Region: Vittoria, Sicily, Italy

🌡 Serve: Cold
🤓 More fun facts: To fertilize the soil, organic fertilizers are strictly used. To protect the vines from pests, the Horus team takes preventive actions such as plant reinforcement and the use of natural enemies of pests. Additionally, they employ an ancient and traditional farming method of planting roses at the end of each row of vines. These roses serve as an early warning system for possible diseases that could be harmful to the grape vines, as roses and vines are susceptible to some of the same diseases.