Cantina Horus | Grillo | "Sole e Terra" | Vittoria, Sicily | 2021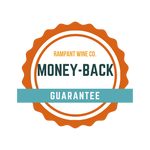 Giuseppe Romano is the grower-winemaker at Horus, a small, certified organic property located in the same 2-3 mile radius around Acate, which is also home to Vittoria icons like COS and Occhipinti. While he's far from a household name, more than a few Italian wine professionals we've met feel that Giuseppe is "the first person to put Frappato on the map" in the US with his work at Valle dell'Acate and other local growers in decades past. Horus is a new name with a new cellar, but our experience is that the quality is already broadly high, and the wines seem to get noticeably better and more serious with each new vintage.
Driven by young and passionate individuals who have taken it upon themselves to preserve and promote the most indigenous and ancient vine varieties of their region, Horus plans the wine production process right from the stage of vineyard planting. Avoiding the use of chemicals and pesticides as they tend to increase productivity at the expense of quality and disrupt the essential balance of soil, plant, and climate. Their focus is on growing strong vines that produce sound, balanced, and rich grapes, which are the hallmark of these unique and recognizable wines.

All of their wines are produced using grapes from vineyards cultivated in accordance with the principles of organic agriculture. This system is based on sustainable development practices that prioritize the protection and effective use of resources, environmental balance, and consumer health.

"We have chosen to make organic wines for sentimental reasons – we get connected to our farming culture while fully respecting the life cycle of the grape vines." -Cantina Horus

🧑‍🤝‍🧑 Pair with: Grilled veggies, fish tacos, jambon beurre sandwich

🍇 Grape Variety: Grillo

🌱 Farming: Organic

🍾 Winemaking: Vinified from white grapes, 10% of fermentation in barriques and the remaining percentage in stainless steel tanks before assembly; batonnage for about 20 days

🧑🏼‍🌾 Winemakers: Giovanni and Raffaele La Mura

🌎 Region: Vittoria, Sicily, Italy

🌡 Serve: Cold
🤓 More fun facts: To fertilize the soil, organic fertilizers are strictly used. To protect the vines from pests, the Horus team takes preventive actions such as plant reinforcement and the use of natural enemies of pests. Additionally, they employ an ancient and traditional farming method of planting roses at the end of each row of vines. These roses serve as an early warning system for possible diseases that could be harmful to the grape vines, as roses and vines are susceptible to some of the same diseases.