Castello di Stefanago | Chardonnay Blend | "Ancestrale Blanc de Blancs" | Lombardia, IT | NV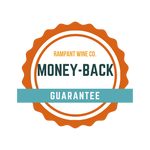 🧑‍🤝‍🧑 Pair with: oysters, cured meats, sushi, seafood, fried foods
🌱 Farming: Certified Organic
🥶 Serve: Cold
🍇 Grape Varieties: Chardonnay, Muller-Thurgau, Riesling
🌎 Region: Oltrepò Pavese, Lombardia, IT
🧑🏽‍🌾 Winemakers: Antonio and Giacomo Baruffaldi

🤓 Geek Out: Grapes are grown at 1,300 ft above sea level in clay and tuff soil where the vines are trained with the guyot system. Hand harvest, direct press, spontaneous fermentation with native yeast. The first cold haults the fermentation. Second fermentation happens spontaneously (creating bubbles) in the spring when temperatures rise and awaken the yeast. 
Land at the Milan airport and take a 45 minute drive into the hills of Oltrepo Pavese where you will find Castello di Stefagno. The castle has stood tall on 135 hectares since the 11th century! Here, Antonio and Giacomo Baruffaldi have organically farmed the best 20 hectares of their land in tiny plots scattered all over the property. When you're sick of wine tasting, and medieval castles, walk across the street to their microbrewery and hang out with some hipsters wearing beanies in the summertime.  
Antonio and Giacomo are obsessed with their land! There's and emphasis on their wines truly starting in the vineyard, as each parcel is studied, analyzed, and carefully tended. The duo deploys biodynamic treatments to yield the healthiest fruit possible.
The vineyard/cellar philosophy of Antonio and Giacomo is truly old school: pamper the vines with meticulous farming, take a hands-off winemaking approach in the cellar.