Funaro | Zibibbo/Inzolia | "Passo di Luna Bianco" | Sicily, Italy | 2021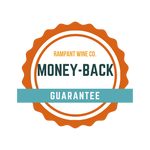 Giudice brothers Tiziana, Clemente, and Giacomo, decided to take a new entrepreneurial path for their three-generation farm. One that is based on their love for the land and the desire to make the best use of its resources. In 2003, they started the Funaro winery.
Located in Santa Ninfa, on a small hill overlooking the Belice Valley, the winery has undergone expansion over the years to accommodate growth and the enhancement of its resources. The most recent extension of the cellar allows the company to vinify all its grapes, with state-of-the-art technology and equipment, and a focus on energy-saving practices. This may seem a step away from the "low intervention, let the grapes do the talking" style; however, with the use of this modern tech, the team strives to respect the raw material and the environment at every stage of the production process, from receiving the grapes to bottling. 
The Passo di Luna Bianco is a beautiful expression of the Funaro way. Here we see grape variety Zibibbo, believed to date back to ancient Egypt, team up with the classic Sicilian grape Inzolia, to bring a harmonious and deliciously balanced wine. Elegant nose, delicate mouthfeel, superb flavor, and freshness. Is anyone else feeling parched, right now?
In 2011, both the farm and the winery earned "Bio" certification, which signifies their commitment to environmental sustainability.  The Funaro winery does not just produce great wines; they are also dedicated to their craft every day.
🧑‍🤝‍🧑 Pair with: salmon sashimi, spaghetti alle vongole, bruschetta
🍇 Grape Variety: Zibibbo/Inzolia
🌱 Farming: Certified Organic 
🍾 Winemaking: The grapes are separately vinified in steel vats at a controlled temperature of 15°C. Once the fermentation is complete, maturation continues at a controlled temperature, followed by the assembly, bottling, and brief refinement in the bottle.
🧑🏼‍🌾 Winemakers: Tiziana, Clemente, and Giacomo Giudice
 🌎 Region: Sicily, Italy
🌡 Serve: Cold