Croci | Malvasia | Valtolla Bianco | Emilia-Romagna, IT | 2020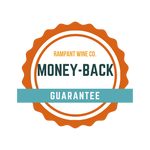 Milk production was the focus of the Croci family farm until 1970, when Massimiliano's father realized that the small hamlet could not compete with the industrial dairy operations. So he dumped dairy and embraced wine growing on the small estate in the westernmost winegrowing sub-zone of Emilia-Romagna, the Colli Piacentini, just south of the city for which those hills are named (Piacenza) and on the eastern border of the Lombardy region.
Today, Massimiliano Croci is the current generation of vignaiolo running what started as his grandfather's property in 1935. His focus is the traditional wine of the area: white and red sparkling wines re-fermented in the bottle. But he also makes small quantities of still wine. Currently 8.5 of the total of 16 hectares are planted to vines—Barbera and Croatina for reds, Malvasia, Ortrugo and few others in small amounts for whites. The rest of the acreage support Croci's dairy cows and the feed grain, hay and pasture for the animals.
🧑‍🤝‍🧑 Pair with: spicy dishes... cajun, thai stir-fries, moo shoo pork, fish tacos, spicy and/or fragrant pastas like spaghetti al vongole
🍇 Grape Variety: Malvasia
🌱 Farming: Organic
🍾 Winemaking: hand harvest, destemmed, fermented spontaneously without sulfur in cement tank, maceration lasts about 30 days, aged on its lees in tank for 10 months, bottled without fining or filtration, minuscule dose of sulfur. 
📦 Production: very small
🧑🏼‍🌾 Winemaker: Massimiliano Croci
 🌎 Region: Colli Piacentini, Emilia-Romagna, IT
🌡 Serve: Cold
🤓 More Nerdy Stuff:
In 1970 when the Croci family switched from dairy to viticulture, the wines were made from estate fruit and were rustic in nature. Sales were a mix of bulk—mainly in demi-johns that locals would stop to fill—and bottles in which the wine would naturally finish fermentation and be left as it was. In the 1980's, very "clean" and clear, industrially grown and made wines became the standard. The Croci family pivoted to Charmat carbonation (tank method) plus heavy filtration in order to keep up with the times and to increase its production.

Massimiliano assumed the management of vine-growing and wine-making in 1999. He observed that the older, more rustic, bottled-fermented wines had held up much better and were much more expressive of the land over time. He quickly punted all things Charmat, stopped filtering and worked hard to bring the estate back around to his grandfather's 1930's approach. There are a couple of common shortcuts to making the local sparkling wines today: either to make them sparkle with the Charmat method and then dose them with lees to create a cloudy appearance that suggests country rusticity, or to ferment the wines to dry and add sugar to kick off a quick secondary fermentation (followed by filtration or not). Massimiliano's "low and slow" approach is rare: the first and completely spontaneous fermentation slows down as winter approaches and eventually stops, picking back up again as spring warms up the partly fermented wines. He starts that process in cement and steel tanks, bottles the wines and allows the fermentation to continue and finish in the bottle slowly over what ends up being about a year but varies certainly. Sulfur usage is scant at most.

The old-fashioned approach in the winery alone distinguishes Croci but would matter much less if it weren't for Croci's distinctive terroir and impeccable farming. Their vineyard and winery are in the foothills of the Val Arda, named for a small tributary of the massive Po River. The parcels are mainly steep hillside plots of old vines at 250-300 meters on soils known as terre dei fossili dei piacentini, a loose sand full of fossilized, limestone-rich seashells (dating back about five million years to the land's time as an ocean floor) combined with red clay. The vines are farmed entirely organically and harvested by hand, worked meticulously to achieve only moderate yields, all of which is atypical of the region. Overall production is modest: Massimiliano drastically cut back production, from 100,000 in his father's time to 20,000 bottles by 2002. It has levelled out at around 40,000 today. By looking to the past, he has brought Croci firmly and distinctively into the modern era, with a focus on exceptionally high-quality, low-volume, traditional, re-fermented sparkling wines.