Envínate | Listan Blanco | "Palo Blanco" | Canary Islands, Spain 2019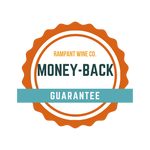 It's too hot, too humid, too tropical, too steep, too treacherous. Every wine textbook deems the 28th parallel of latitude too close to the equator for viticulture. Off the coast of Morocco lies the Canary Islands where 4 friends defy those stuffy text books. Roberto Santana, Alfonso Torrente, Laura Ramos, and José Martínez met in enology school in 2005. They formed Envínate ("wine yourself") to explore distinctive parcels of Atlantic-influenced vines of the Canary Islands and Galicia, Spain.
🧑‍🤝‍🧑 Pair with: creamy avocado based dishes, creamy seafood pastas, salmon, scallops, and other rich/fatty seafoods
🌱 Farming: Practicing Organic
🥶 Serve: Cold
🌎 Region: Tenerife, Canary Islands, Spain
🍇 Grape Variety: Listan Blanco
📦 Production: 550 Cases
🤓 More nerdy stuff: The Envinate collective strives to make pure and authentic wines that express the wild terroirs of each tiny unique parcel they farm. Amongst insanely steep rocky volcanic cliffs, you'll find Envínate's tiny parcels of organic vineyards highlighting ANCIENT vines, high elevation (3,000 feet?), Atlantic influence, hand harvests, and foot stomps. A recipe for delicious wine. Who would have known that this concentration of own-rooted centenarian vines would lie further south than Jacksonville, Houston, and New Orleans? Wine growing has come full circle where the new farming styles are actually the old farming styles.

🧑🏽‍🔬 Winemaking: hand-harvested, pressed full cluster into large concrete tank off the skins and fermented without malolactic occurring, then raised in two Friulian 2500L oval foudres for 10 months. Bottling is without fining or filtration.