Greco Bianco (Orange) | L'Archetipo | Puglia, Italy | 2020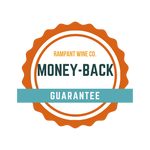 Francesco Valentino Dibenedetto and family bring us a Greco Bianco crafted with a dedication to synergistic agriculture. This family's journey towards ecological consciousness has resulted in a wine that showcases the grape's unique characteristics, the terroir of their land, and their passion for healthy soil.
The Dibenedetto family continually improves their farming practices from converting to organics in the 1980's, biodynamics in 2000, and eventually to the synergistic agriculture that they practice today. They farm to the best of their ability, allowing nature to take its course, and shepherding their crops with minimal intervention. The result is a downright delicious wine that represents a time, place, and commitment to their land.

Whether enjoyed as an aperitif, paired with fresh seafood or risotto, this wine is sure to impress. Each sip layered with notes of green apple, pineapple, and a vibrant minerality will transport you to the sun-kissed hills of southern Italy.

🧑‍🤝‍🧑 Pair with: Oysters, fish tacos, caprese salad, baccalà, grilled vegetables

🍇 Grape Variety: Greco Bianco

🌱 Farming: Synergistic Agriculture

🍾 Winemaking: Hand harvested, 5 days skin contact, 2 month fermentation at low temperature in stainless steel tanks, bottled unfined/unfiltered

🧑🏼‍🌾 Winemaker: Francesco Valentino

🌎 Region: Puglia IGT, Italy

🌡 Serve: Cold