Procanico | Il Vinco | "Fuori Orario" | Lazio, IT | 2021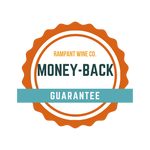 On the southern slopes of the volcanic Lago di Bolsena, Il Vinco is a joint effort between three friends who sought out to recuperate and restore the native Canaiolo Nero vines in 2014.

Canaiolo is mostly used as a blending grape in Chianti. Planted in the volcanic soils of Lazio, and bottled as a single-varietal, the grape shines bright
on its own!

With the assistance of native Lazio legend, Andrea Occhipinti, the friends began by purchasing 2.5 hectares of old vine Canaiolo, with another 2.5 recently planted.

The old vines are planted on hilly slopes between 820 and 1500 feet above sea level. The climate here is ideal- gentle breezes from the lake and a perfect amount of sunshine. Good terroir, biodynamic ethos in the vineyard, beautiful wines!
🍇 Grape Variety: 100% Procanico, a local native variety
🌱 Farming: Biodynamic
🍾 Winemaking: direct press into fiberglass vats, spontaneous fermentation
🌡 Serve: Chilled
🌎 Region: Capodimonte, Bolsena Lake, Lazio, IT
🧑🏼‍🌾 Winemakers: Daniele Manoni, Marco Fucini, and Nicola Brenciaglia