Grenache Blend | Jolie-Laide | Glou d'Etat | California, USA | 2021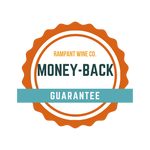 Jolie-Laide is a two-person operation based in Sebastopol. The name Jolie-Laide translates loosely to Pretty-Ugly, a French term of endearment to describe something that is unconventionally beautiful.
Founded originally by Scott Schultz, and later joined by his partner Jenny Schultz, their winemaking method is simple: grapes are left whole cluster, foot crushed, and aged in neutral oak.
Scott and Jenny's approach is natural- a less is more ethos. But their keen eye for finding great fruit from only sustainably and responsibly-farmed sites, coupled with an impressive natural talent, lead to consistently delicious wines.
🧑‍🤝‍🧑 Pair with: pizza, pasta, tacos, shwarma, stew
🍇 Grape Variety: Grenache, Mourvedre, Syrah
🌱 Farming: Organic
🧑🏼‍🌾 Winemaker: Scott & Jenny Schultz
 🌎 Region: California, USA
🌡 Serve: Slightly chilly