Inconnu | "Kitsune" | Merlot | Carneros, CA | 2018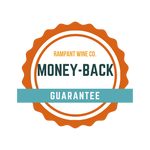 🧑‍🤝‍🧑 Pair with roasted pork shoulder, grilled and braised meets, chimichurri

🌱 Organic Farming

🤓 After aspirations of becoming a tattoo artist and a neuroscientist, Laura Brennan Bissell ended up following some of her favorite bands on tour and ended up in Barcelona. It was here where she grew an appreciation for fresh food and low intervention wines. Soon after she landed some harvest gigs with some legendary California producers, and lucky for us, she started making wine of her own.
Kitsune is inspired by Right Bank Bordeaux. The fruit comes from Carneros' famous clay loam soils. Aged for two years in barrel.
🧓🏼 Don't be afraid to age this one! Older is better.