Kontozisis Organic Vineyards | Malagousia | "A-Grafo" | Thessaly, GR | 2020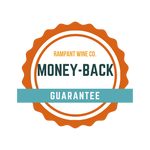 Kontozisis has been practicing certified organics since 1991- one of the first to get such a certification in Greece. The long-term commitment to organic practices shows their honest approach to sustainability. Andreas Kontozisis and his partner Aphrodite Tousia are working passionately with the area's indigenous grapes such as the red Limniona and white Malagousia. All grapes are hand harvested and pruned from the low-yield, state-owned vineyards of 11 hectares. The duo only uses free run juice and eschews commercial yeasts. The result is excellent quality wine with intense varietal characteristics and lingering complexity.
🧑‍🤝‍🧑 Pair with: mediterranean fare, halal, Moroccan spice, tacos al pastor, grilled pork, fatty fish, dishes with tropical and stone fruits 
🌱 Farming: Organic
🍾 Winemaking: 25-day skin contact, whole-cluster / carbonic maceration, aged 6 months in stainless steel with battonage on its lees. Spontaneous fermentation with no temperature control or additions, bottled without clarification or filtration, and zero added sulfites.

📦 Production: 165 Cases
🍇 Grape Variety: 100% Malagousia
🧑🏼‍🌾 Winemaker: Andreas Kontozisis and Aphrodite Tousia
 🌎 Region: PGI Karditsa
🌡 Serve: Cold, not freezing