Lacryma Christi White | Poggio Delle Baccanti | Campania, Italy | 2020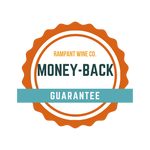 The La Mura family has been making wine on the Sorrento Peninsula, on the slopes of the famous volcano, Mt. Vesuvius, since the 1950's. They work only with local varieties and have made "a pact with the earth" to treat it with respect, deploying organic farming and low-intervention winemaking practices. 
Here's where it gets churchy... Lacryma Christi, the "Tears of Christ," refers to lava flowing from Mt. Vesuvius representing Christ weeping over the fall of Lucifer. The tears are said to have spawned the growth of the region's native grapes.
Archaeologists claim that the Lacryma Christi wines are supposedly similar to what was drank in the Roman era. 
This is a blend of grapes permitted in the Lacryma Christi classification- Caprettone, Catalanesca, and Falanghina. Grown in volcanic soils, we see a wine with unique, ashy minerality.
🧑‍🤝‍🧑 Pair with: charred/grilled seafood, creamy pasta
🍇 Grape Variety: 60% Caprettone, 20% Catalanesca, and 20% Falanghina
🌱 Farming: Organic
🍾 Winemaking: spontaneous native yeast fermentation, stainless steel, 20ppm sulfur
🧑🏼‍🌾 Winemakers: Giovanni and Raffaele La Mura 
 🌎 Region: Lacryma Christi, Campania, Italy
🌡 Serve: Cold