Los Angeles River Wine Co. | Palomino | "Raisin City" | Fresno, CA | 2020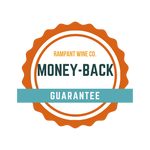 Abe Schoener and Raj Parr's most recent winemaking project!
After Abe Schoener dove into Southern California's deep-rooted wine history, he packed up his things in Napa, and moved to Los Angeles, where he found a trove of century-old and semi-forgotten grapevines just 30 minutes outside of the city. Abe knew that Rajat Parr would be intrigued, so he hit him up and got him involved.
The duo is passionate about working with old, obscure, and forgotten vines. With the Los Angeles River project, the two are feeding their passion to work with old, obscure, and forgotten vineyards-- this time it's exclusively in Southern California. 
100% Palomino, 50% whole

cluster pressing, 50% skin-
fermented for 2 weeks, aged in

neutral oak barrels for 7 months
🧑‍🤝‍🧑 Pair with: seafood, aromatic pasta dishes, nutty flavors
🌱 Farming: Biodynamic
🍇 Grape Variety: 100% Palomino
🧑🏼‍🌾 Winemaker: Abe Schoener (Scholium Project) and Raj Parr
 🌎 Region: Fresno, CA (San Joaquin Valley AVA)
🌡 Serve: Cold