Nero d'Avola Blend | Martha Stoumen | "Benchlands" | Mendocino, CA | 2019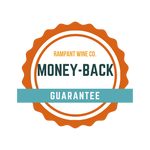 Martha Stoumen is one of the OG's in California's natural winemaking scene. After an undergrad apprenticeship in Tuscany, she continued her pursuit of viticultural knowledge working under Reinhard Löwenstein (Heymann-Löwenstein, Mosel), Jordan Fiorentini (Chalk Hill, California) Chris Brockway (Broc Cellars, California), Clive Dougall (Seresin, Marlborough), Didier Barral (Léon Barral, Faugères, France), and Giusto Occhipinti (COS, Sicily). Add a Master's Degree from UC Davis and you have a woman who knows her sh*t!
🧑‍🤝‍🧑 Pair with: BBQ, tacos, grilled veggies, juicy burgers, spaghetti bolognese, pizza
🌱 Farming: Organic. Partially no-till and dry-farmed vines
🌎 Region: Mendocino, CA
🍇 Grape Varieties: 60% Nero d'Avola / 40% Zinfandel
📦 Production: 759 cases
🧓🏼 Don't be afraid to age this one! Old is good. 

🤓 More Nerdy Stuff: Her experience working under Sicily's Occhipinti has made her California's Queen of Sicilian variety, Nero d'Avola. In fact, the inspiration behind the Benchlands blend (60% Nero d'Avola / 40% Zinfandel) is the classic Cerasuolo di Vittoria blend of 60% Nero d'Avola and 40% Frappato from Sicily. A Cerasuolo di California, if you will! The name of this wine alludes to the uplifted benchlands in Mendocino where all of the original Italian settlers planted vines (rather than the valley floor).