Mas Gomà | Rosé Pet Nat | "L'Alba al Turó Rosat" | Catalonia, Spain | 2021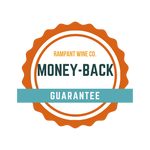 The Vendrell family of Mas Gomà has been working their farm for five generations. Just west of Barcelona, in the middle of the Penedès region in the northeast of Spain. Father and son, Pere and Eloi, have recovered several native grape varieties. They work with indigenous plants such as thyme and nettle to provide a true biodynamic habitat for their vines. They aim to work hard to provide future generations with vineyards rich in biodiversity, living soil, and organic matter.
Father-son duo Joan Manel and Joan Vendrell, who currently run the winery, extend their family dedication to the cellar. No added sulfites and minimal intervention let the grapes sing their song. Creating wines capable of naturally expressing the meticulously and lovingly tended vineyards, as they learned from past generations. 

🧑‍🤝‍🧑 Pair with: Anything outside in the sunshine!

🍇 Grape Variety: 50% Red Grenache, 50% Xarel-lo

🌱 Farming: Organic farming with biodynamic principles

🍾 Winemaking: Pétillant Naturel aka Ancestral Method (single fermentation)

🧑🏼‍🌾 Winemakers: Joan Manel and Joan Vendrell

🌎 Region: Catalonia, Spain

🌡 Serve: Cold