Nanclares y Prieto | Mencía Blend | "A Senda Vermella" Vino Tinto | Castilla y Leon, ES | 2018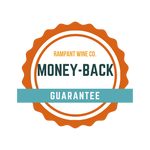 Nanclares y Prieto's focus is to make classic, age-worthy, elegant wines that express both variety and terruño via organic viticulture and VERY minimal intervention in the cellar. The coastal Atlantic town of Cambados, where many of these parcels are located, is considered the ancestral home to the Albariño grape. Although they may be known for their Albariños, the duo makes some amazing "vinos tintos" as well.  
🧑‍🤝‍🧑 Pair with: grilled meats, game, mushroom-based sauces, charcuterie boards
🌱 Farming: Biodynamic
🥶 Serve: Slightly chilled ~20-30 minutes in the fridge
🌎 Region: Castilla y Leon, Spain
🍇 Grape Varieties: 60% Caiño, 40% Mencía
📦 Production: 324 Cases
🤓 Geek Out: Alberto Nanclares became a vigneron in the mid 1990's after retiring from his career as an Economist. He and his wife moved to Spain's North Atlantic seaside village of Castrelo to relax and enjoy retirement. The property itself happened to have some vineyard land which he eventually began to farm as a hobby with the help of some neighbors. The first vintage was vinified in his garage in 1997. Today, Alberto, with the help of his friend, Silvia Prieto, farms a mere 5 hectares of vines in Rias Baixas that are dispersed amongst 13 tiny parcels. 
A Senda Vermella comes from 2 plots of Caiño and 3 plots of Mencía grown in the
villages of Barro, Cambados and Vilanova along the Atlantic coast. The grapes are hand-harvested, foot-trodden whole cluster, and fermented with native yeast in 2/3 used French oak barrels and 1/3 steel tank. 20% of the juice is from 2017 harvest for the 2018 wine.
After 21 days on skins, the wine was raised on fine lees for 9 months (the 2017
portion for a total of 20 months), bottled without fining or filtration, minimal SO2, and
bottled aged for 10 months before release.