Sparkling Albariño | Carboniste "Octopus" | Gomes Vineyard, Andrus Island, CA | 2021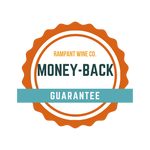 Carboniste was founded by winemakers Dan and Jacqueline Person, focusing on the reinvention of California sparkling wine. Their idealogy behind the movement is quite simple by theory; why attempt to emulate a wine made in a different climate with different weather and soil, i.e. attempting to make Champagne in California, and instead craft a unique wine that not only is delicious but also showcases the terroir in which the grapes were so lovingly grown?
The Octopus does just that. Bursting with freshness and tropical fruit, while remaining light on the palate, it portrays the warm and sunny vineyards of Andrus Island in which it was grown.
🧑‍🤝‍🧑 Pair with: fried seafood, fish tacos, herbaceous seafood dishes, sushi, grilled octopus

🍇 Grape Variety: Albariño

🌱 Farming: Practicing Organic

🍾 Winemaking: Pressed whole cluster and settled for 2 days as juice. Fermented in a neutral tank with native yeast for 3 weeks without the addition of sulfur dioxide or the presence of malolactic fermentation. Bottled with fresh yeast and a small amount of sugar.

🧑🏼‍🌾 Winemakers: Dan & Jacqueline Person

🌎 Region: Gomes Vineyard, Andrus Island, CA

🌡 Serve: Cold