Natalino Del Prete | Primitivo | "Natali" | Puglia, Italy | 2021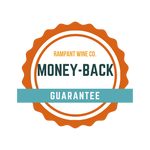 We find ourselves in Puglia, a Southern Italian region known for its abundant plonk that's chemically farmed, mechanically harvested, and adulterated in the cellar for mass production and profit margins.
Natalino Del Prete on the other hand has an old-school approach. His winemaking starts on the small, multi-generation family farm where he grew up. The farm practices organic viticulture yielding beautiful wines that represent a time and place in the Del Prete vineyard.

With just 7 hectares of vines, some as old as 80 years, Natalino believes in restraint and low intervention in both the vineyard and the cellar. Inspired by the old country's "peasant wine" here we see no additives and no bullshit. This every-night drinker has all the rustic charm we love.
🧑‍🤝‍🧑 Pair with: Seared steak, bolognese, grilled vegetables
🍇 Grape Variety: Primitivo
🌱 Farming: Organic
🍾 Winemaking: Fermented and aged in concrete tanks, no added sulfur
🧑🏼‍🌾 Winemaker: Natalino Del Prete
 🌎 Region: Salento IGT, Puglia, Italy
🌡
Serve: 
Decanted