Riesling | j. Brix | "The Augur" | Santa Barbara, CA | 2021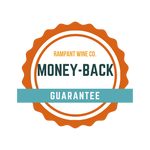 Jody and Emily are a husband and wife team making terroir-driven wines that showcase site, soil, and growing season. The duo adores Califonria variety, making as many different wines as they can each vintage, ideally with a new grape or harvest each harvest! 
Neutral vessels, native-yeast fermentation, and absolutely nothing else, with the exception of minimal sulfur dioxide when the chemistry deems what they feel is necessary.
In keeping with their minimalist approach, they choose not to fine, filter or cold-stabilize their wines. Jody and Emily have the same motto for living their lives as they do with their winemaking: ONLY LOVE.
🧑‍🤝‍🧑 Pair with: everything from sushi to sausages
🍇 Grape Variety: Riesling
🌱 Farming: Organic
🍾 Winemaking: Hand-picked, Whole-cluster, direct-to-press, native yeast fermentation, Neutral French oak barrels, Unfined, unfiltered
📦 Production: 125 cases
🧑🏼‍🌾 Winemaker: Emily Towe & Jody Brix Towe
 🌎 Region: Kick On Ranch Vineyard, Santa Barbara, CA
🌡 Serve: Cold