Rose & Son | Merlot | Santa Ynez Valley, CA | 2019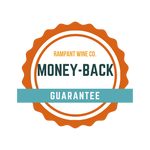 Rose & Son is a vineyard-driven line of wines created by sommelier Jonathan Rosenson and winemaker Mike Roth as homage to Jonathan's family namesake, Rosenson.

The grapes are sourced from the Rosenson Family's certified organic vineyard, Coquelicot Estate. The wine pays tribute to the family story of immigration
to the US from post World War II France. It's a continuation of that survivor's legacy being passed down to the next generation through their family business.
🧑‍🤝‍🧑 Pair with: Roasted Meats, Root Vegetables, Hearty Fare
🍇 Grape Variety: Merlot
🌱 Farming: Certified Organic 
📦 Production: 97 Cases
🧑🏼‍🌾 Winemaker: Mike Roth
 🌎 Region: Santa Ynez Valley, CA
🌡 Serve: Room Temperature​
The Santa Ynez Valley is oddly one of California's cooler climates despite its southerly latitude, as the valley runs east-west, funneling cool Pacific air from the coast into the vineyards. Here we see foggy mornings that burn off into warm days followed by cool nights- ideal conditions for ripening grapes while retaining acidity.