Montepulciano | Cantina Indigeno | Abruzzo, IT | 2021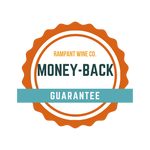 Cantina Indigeno Rosso Montepulciano is a red natural wine from Abruzzo, Central Italy, made from 90% Montepulciano and 10% Trebbiano grapes grown organically. Native yeasts, spontaneous fermentation, low sulfites.
Cantina Indigeno is located near Teramo, Abruzzo region, Central Italy. Cantina Indigeno is one of the most exciting natural wine producers in Italy, working with minimal intervention organically farmed mostly Montepulciano and Trebbiano grapes. Their wines are nothing short of amazing. Always different, always evolving in the glass.
🧑‍🤝‍🧑 Pair with: Pizza, pasta, tacos, mushrooms
🌱 Farming: Organic
🍇 Grape Varieties: 90% Montepulciano d'Abruzzo and 10% Trebbiano d'Abruzzo
 🌎 Region: Abruzzo, IT
🌡 Serve: Slightly Chilled