Harrington Wines | Syrah/Mourvedre | "Sub Rosa" | Sierra Nevada Foothills, CA | 2016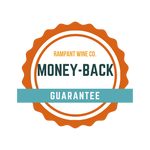 🧑‍🤝‍🧑 Pair with lamb, grilled meats, gyro, shawarma, olives, 5-spice pork
🚰 Decant for 60+ minutes

🌱 Organic Farming
🍇 Grape Varieties: Syrah, Mourvedre (50/50)
🇺🇸 Region: Sierra Nevada Foothills, California
🧓🏼 Don't be afraid to age this red wine! Older is better.
🤓 Harrington Wines delivering another delicious red wine from the superb Sumu Kaw Vineyard in the Sierra Nevada Foothills' El Dorado County. Sumu Kaw is perched on a ridge-top at 3000 ft above sea level in the middle of a pine forest with deep volcanic loam soils. The high altitude exposure allows the grapes to ripen slowly and retain charming acidity while the volcanic soil provides sensual aromatics.
Bryan Harrington is an urban winemaker who was working in a hidden cellar in industrial San Francisco. After a stint in NY as an artist, he moved back to his hometown of San Francisco and started making amazing wine with a personal touch. Rising rents in the Bay Area have caused him to close his winemaking operation and this will be one of the last wines he will commercially make!