Skin-Contact Pinot Gris | Swick Wines | "Zero Point Zero Gris" | Willamette Valley, OR | 2021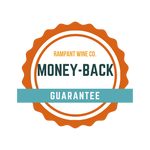 Joe Swick wants his wine to be raw and naked! Lots of acidity and freshness. No conventional additives. Just grapes and (sometimes) a very small amount of SO2 for bottle stability.

Joe works with traditional varieties but also experiments with lesser known grapes like Verdelho, Melon de Bourgogne and Touriga Nacional.

What ends up in the glass? Bright energy, freshness, and a unique representation of cool climate terroir. Each vintage brings a new vibe!
🧑‍🤝‍🧑 Pair with: stone fruit oriented dishes, grilled/roasted pork, salmon, scallops, roast chicken, white pizza, charcuterie
🌱 Farming: Organic
🍇 Grape Variety: Pinot Gris
🧑🏼‍🌾 Winemaker: Joe Swick
🍾 Winemaking: 100% Pinot Gris, 30 days of skin maceration, aged in stainless steel
 🌎 Region: Williamette Valley
🌡 Serve: Cold, not freezing