Swick Wines | Pinot Noir | Willamette Valley, USA | 2021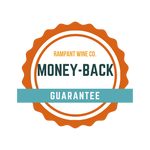 Fifth-generation Oregonian Joseph Swick's philosophy is to make the wine as naked and raw as possible. He works with organically farmed vineyards in the colder regions of Oregon and Washington.
Joe makes wines he loves to drink, so there's plenty of acidity and freshness. No conventional additives. Just grapes and (sometimes) a very small amount of SO2 to keep the wine stable in bottle. Joe's big personality wants fun and delicious, inclusive wines, rather than trophies and status symbols. 
🧑‍🤝‍🧑 Pair with: mushrooms, braises, duck, lighter game
🌱 Farming: organic
🍇 Grape Variety: 100% Pinot Noir
🧑🏼‍🌾 Winemaker: Joe Swick
 🌎 Region: Willamette Valley, Oregon
🌡 Serve: Slightly Chilled
🤓 Geek Out: A native of Oregon, Joe returned to his home state in 2013 after a decade of working harvests and making wine across the globe. Joe's ethos is rooted in showcasing the unique cold climate terroirs of the Pacific Northwest using a hands-off approach. Swick partners exclusively with organic and biodynamic growers to develop wines that he himself would like to drink -- fresh, lively acidity, with no conventional additives, only adding modest amounts of SO2 on select wines when absolutely necessary.

Swick Wines integrate into a movement looking to rewrite the history of West Coast winemaking. Joe uses a number of minimal intervention techniques from experimentation in skin contact to field blends to Pét-Nats. Swick works with historically farmed regional varieties such as Pinot Noir, Chenin Blanc, and Grenache and experiments with non-native grapes such as Verdelho, Melon de Bourgogne, and Touriga Nacional. What ends up in the glass are energetic, vins de soif with a freshness and balanced acidity that reflect their artist, terroir, and space in time -- each year bringing new wines and a new approach. You never know what surprises you might find with Swick.