Tarlant | Brut Zero | Rose Champagne NV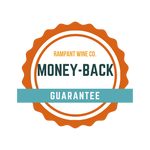 🧑‍🤝‍🧑 Pair with: caviar, oysters, ceviche, fish tacos, dim sum, fried seafood
🌱 Farming: Organic
🥶 Serve: Cold
🌎 Region: Champagne, FR
🍇 Grape Varieties: Chardonnay (50%), Pinot Noir (44%), Pinot Meunier (6%)
🤓 Geek Out: The Tarlant Family began growing and producing wine since 1687. At the turn of the 20th century, Louis Tarlant, the mayor of Oeuilly at the time, proved to be crucial in foundating the family's legacy. As mayor of Oeuilly, Louis was one of the leaders of the Champagne Revolution of the early 1900's. The big houses, who had a stranglehold on the market even back then, were bringing in grapes from as far as Portugal (!!!) to vinify and sell as "Champagne." Hard-working passionate local growers wanted to put an end to this phenomenon, so they started blocking off entry points for these outside grape distributors and forming legislation to protect the amazing region. Not only did Louis help establish the Champagne AOC in 1927, but he was also one of the first independent grower Champagne eastates as he refused to sell his crop to the big houses shortly after the revolution.  
Today, Benoît Tarlant is the 12th generation vigneron under the family name! The combination of Benoît's respect for the past and progressive thinking has propelled the Tarlant wines into next level terroir-driven Champagnes. 
The estate consists of 14 hectares of vines within 31 lieu-dits of Pinot Noir (50%), Chardonnay (30%) and Pinot Meunier (20%). From empirical observation, Benoît and his sister, Mélanie, have singled out 63 parcels that they vinify individually each vintage, permitting unparalled precision in blending decisions for base and reserve wines, but also letting them highlight single vineyard expressions of their land.
In the cellar, the grapes are gently pressed and racked by gravity to Burgundian barrels, where each parcel ferments and ages individually. Malolactic fermentation almost never occurs but is not blocked: Benoît feels that through careful pressing, attention to temperature and the correct viticultural practices, Champagne's naturally cold climate gives them grapes with low PH and high acidity, a combo that does not incite malo. Sulfites are are only added in microscopic doses at press and intermittently to casks of reserve wine. The wines are never filtered.
The innovative juices of the Tarlant family never ceases to skip a generation. In the 1970's, Benoît's father, Jean-Mary, started the house tradition of no dosage. Although getting more and more popular today, at the time this was virtually unheard of. 90% of the family's production is bottled without dosage.