Populis Red Blend | "Reversée" | Mendocino, CA | 2022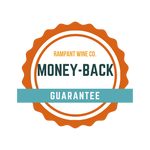 Founded in 2014, Populis was created by Shaunt and Diego, seeking to fill a void in California natural wine. They work with top-tier vineyards while relentlessly seeking out old organic vines farmed without synthetic herbicides or pesticides. The duo uses no additives, no intervention, and, as they say, "no tomfoolery-- just straight up fermented juice."
The 2022 Reversée red blend is made with a technique dubbed "reverse saignée." Half of the grapes are pressed to rosé juice and then blended back into a tank of the destemmed fruit to create a lighter, brighter wine. Juicy, fruity, and energetic with just enough tannin to complement whatever you're grilling on a warm night this summer.
🧑‍🤝‍🧑 Pair with: Anything off the grill, Seared tuna tacos

🍇 Grape Variety: 65% Zinfandel / 30% Carignan / 5% Pinot Noir

🌱 Farming: Certified Organic

🍾 Winemaking: Each variety was separately fermented and then blended before bottling. Zinfandel: macerated five days before the press. Carignan: 7 days carbonic maceration. Zinfandel: Two-thirds pressed as rosé, remaining one-third destemmed, and both co-fermented afterward

🧑🏼‍🌾 Winemakers: Diego Roig and Shaunt Oungoulian

🌎 Region: Mendocino, CA

🌡 Serve: Lightly chilled