Domaine Mosse | Chenin Blanc/Chardonnay Blend | "La Joute" | Anjou Noir, Loire Valley, FR | 2020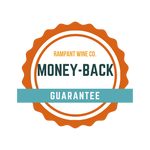 Domaine Mosse was started in 1999 by couple Agnès and René Mosse. It is now currently run by their two sons, Sylvestre and Joseph, who joined the operation in 2014 and took the reins in 2018. Practicing organic and biodynamic farming from the very start, the Mosse family is dedicated to the ideology that a healthy ecosystem is crucial to a quality product.
Made up of 17 hectares in Saint Lambert du Lattay, in the Loire Valley, the area experiences a fairly low range of temperature changes due to its proximity to the Bay of Biscay. The oceanic influences moderate the temperatures of the well-exposed hillsides, and autumn mornings bring thick mists providing ideal conditions for botrytis.
Chenin, a robust grape known for tolerating humidity, is the front-runner of this cuvee, with Chardonnay bringing its freshness and acidity to the mix. 
🧑‍🤝‍🧑 Pair with: Oysters, scallops, salmon... anything rich and fatty, yet delicate

🍇 Grape Variety: 80% Chenin Blanc, 20% Chardonnay 

🌱 Farming: Organic and biodynamic

🍾 Winemaking: slow pressing and spontaneous fermentation in barrels. Indigenous yeasts. Spontaneous malolactic fermentation in barrels. Aged for eight months on lees without batonnage. Unfiltered wine.

🧑🏼‍🌾 Winemakers: Sylvestre and Joseph Mosse

🌎 Region: Anjou Noir, Loire Valley, France

🌡 Serve: Cold