Hammerling Wines | Chardonnay, Pinot Noir, Pinot Meunier | "Sunflower Sutra" | Berkeley, CA | 2021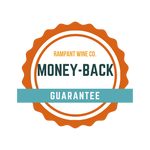 Josh Hammerling embarked on his venture into the realm of wine in 2014. Immersing himself in vineyards, cellars, and tasting rooms across Washington, he assumed the role of an adventurous innovator, experimenting with low-intervention, sparkling wines within the confines of his friends' garages.

In 2017, while simultaneously working for Broc Cellars and Donkey and Goat Wines, Josh leaped to launch his project. The decision to establish his enterprise in Berkeley was a natural one, as the area offered an ideal location for sourcing top-notch grapes and promoting environmentally sustainable farming practices.
The Sunflower Sutra is a distinguished sparkling blend of grapes cultivated throughout California. The composition of the blend evolves annually, adapting to the unique characteristics of each harvest. The name pays tribute to an Allen Ginsberg poem penned in the early 1950s, just a stone's throw away from the winery. The poem encapsulates the indomitable spirit of humanity amid industrial challenges, making it an apt and befitting inspiration for their flagship blend.
🧑‍🤝‍🧑 Pair with: Oysters, sushi, appetizers, celebrations, fried foods

🍇 Grape Variety: 50% Chardonnay, 32% Pinot Noir, 18% Pinot Meunier

🌱 Farming: Organic

🍾 Winemaking: The grapes were harvested between 18 and 20 brix, settled overnight, and fermented in a combination of stainless steel and neutral oak barrels. The wines were aged separately for six months in barrel before blending. The wine was then aged in bottle for an additional 16 months before disgorging by hand. 12.2% Alc./Vol. 1 g/l dosage.

🧑🏼‍🌾 Winemaker: Josh Hammerling

🌎 Region: Berkeley, CA

🌡 Serve: Cold