Hammerling Wines | Merlot Rosé | "Summer Hum" | Berkeley, CA | 2022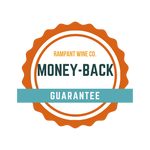 Josh Hammerling embarked on his venture into the realm of wine in 2014. Immersing himself in vineyards, cellars, and tasting rooms across Washington, he assumed the role of an adventurous innovator, experimenting with low-intervention, sparkling wines within the confines of his friends' garages.

In 2017, while simultaneously working for Broc Cellars and Donkey and Goat Wines, Josh leaped to launch his project. The decision to establish his enterprise in Berkeley was a natural one, as the area offered an ideal location for sourcing top-notch grapes and promoting environmentally sustainable farming practices.
Merlot shines quietly as a key player in the realm of rosé. Hammerling has perpetually cherished its invigorating essence of citrus and stone fruit notes, carefully opting for slightly less ripe grapes to ensure a light and revitalizing character. "Summer Hum" pays homage to the Lorine Niedecker poem "Paen to Place." 
🧑‍🤝‍🧑 Pair with: Sunshine, summer salads, Mediterranean fare

🍇 Grape Variety: 100% Merlot

🌱 Farming: Organic

🍾 Winemaking: The grapes were harvested at 20 brix, direct pressed, and fermented in stainless steel. The wine was then aged for five months before bottling. 50% of the wine underwent malolactic fermentation.

🧑🏼‍🌾 Winemakers: Josh Hammerling

🌎 Region: Berkeley, CA

🌡 Serve: Cold