Montepulciano Rosato | de Fermo | "Concrete" | Abruzzo, IT | 2021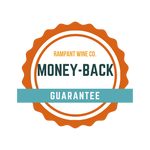 After an earlier hand harvest of certified-biodynamic estate vines, the bunches are destemmed and the grapes pressed gently in a vertical torchio press with a brief two-hour maceration. The must is fermented in a concrete tank spontaneously with native yeasts and without sulfur or temperature control.
The wine is aged in 20-hectoliter concrete tanks--hence the very literal name--for 6 months and bottled without fining or filtration and with only a small dose of sulfur. It is classified as Vino Rosato, so the only geographical indicator on the bottle is "L.A.", in reference to the winery's home community of Loreto Apruntino (which happens to be the oldest viticultural area of the Abruzzo!). 
🧑‍🤝‍🧑 Pair with: pizza, pasta, tacos, charcuterie
🌱 Farming:  Biodynamic
🍇 Grape Variety: Montepulciano
🧑🏼‍🌾 Winemaker: Stefano & Eloisa
 🌎 Region: Abruzzo, IT
🌡 Serve: Cold